Smarter Choices
Professional Brokerage Services
benefit from a diverse team of real estate professionals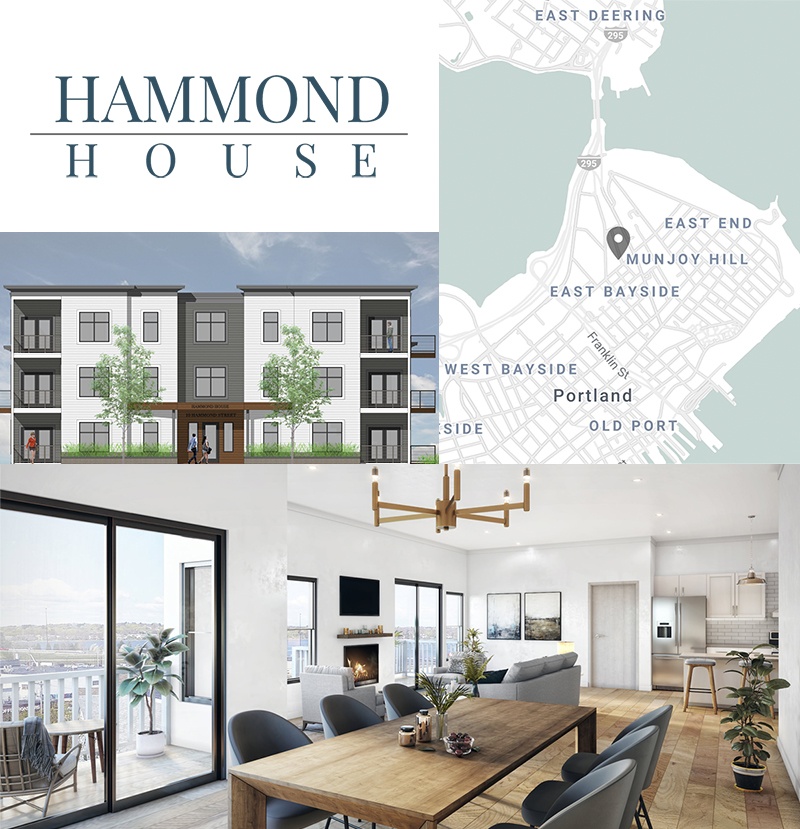 Contemporary Living In East Bayside
Hammond House is the first major condo development nestled between Portland's two most thriving and eclectic areas: East Bayside and Washington Avenue's award-winning "restaurant row." Walk or bike to a unique mix of local breweries, distilleries, coffee shops, restaurants, shops, grocery stores, and the Portland trail system - all within minutes of I-295, the Maine Turnpike, and Portland International Jetport.
Reservations are now being accepted - completion Fall 2020!
Learn More
Vitalius Real Estate Group
Vitalius Real Estate Group is a boutique real estate brokerage based in downtown Portland. We believe that our clients benefit from working with a diverse team of intelligent professionals who are dedicated to effectively negotiating the myriad needs of a real estate transaction.
Our Team

We love our clients and fortunately they tend to love us back.
E&K Kelly
Cumberland Ave, Portland, ME
Elise Loschiavo seriously is a saint. I wouldn't have survived out-of-state house hunting in Portland this Spring if she hadn't been there for me. As I was a first time home buyer I found myself pretty befuddled by the whole process but Elise was... Read More
E. Burke
Sherwood Street, Portland, ME
Elise Loschiavo was honest, knowledgeable, quick and professional to work with. I really needed someone whom I could trust as I was moving out of the country. My condo was in great hands with Elise. I even used her as my power of attorney as I... Read More
P&M Smith
Parsons Road, Portland, ME
We have worked with Elise Loschiavo as sellers and buyers. If you are considering selling or just starting your house search, I highly recommend working with Elise. I can't say enough about how hard Elise works! Buying/selling a house can be an... Read More
J. Norris
Emerson Street, Portland
We had little to no intention of purchasing a home in the Munjoy Hill neighborhood of Portland. We'd lived here for a while, knew the neighborhood and the rapidly changing pace of it; wonderful change but figuring it was far outside the boundaries of... Read More
Leila
205 Allen Avenue, Portland
Brit Vitalius knows his stuff! Having worked with him on both the purchase and sale of a multifamily property in Portland, I would absolutely work with Brit again and recommend you do the same.
Tristan
387 Bridgton Road, Westbrook
Dear Chris, Brit, Jen and the rest of the team at Vitalius, thank you for your help with selling my property at 387 Bridgton Road. I can not say enough good things about how pleased I am with the whole transaction, from start to finish. Special thanks... Read More
Chris
118 Winter Street #5
I approached Elise over three years ago with plans to buy a condo on the peninsula. The awkward deal required finding a property within the right area, the right price range, having a sitting tenant paying the right amount of rent, and a seller with the... Read More
A. Elliott
North Deering, Portland
Brit, Elise, and Chris are the go-to real estate team in Portland. I am now in my fifth transaction with Vitalius (2 multi-unit purchases, 1 multi-unit sale, a commercial lease deal, and a single-family home purchase) in 5 years and will never go... Read More
J Allen
Scarborough, ME 04074
My husband and I bought our first home with Katie, and she made the experience so much easier than I ever thought it could be. She is attentive to detail, friendly, and VERY quick. Her turnaround time on things that need to get done is amazing. She... Read More
Wendy Richards
Cumberland Foreside, ME
Katie is an outstanding realtor that earns her commission in each step of the transaction. Although we have sold two homes without a realtor (FSBO), we decided to hire her to sell our last house. It was the best decision we could have made. Katie helped... Read More
Alan and Mary Levi
Greater Portland Area
Jim Duplissie was an awesome realtor. We recently bought two separate rental properties in the Portland area and Jim tirelessly guided us through the whole process. First, he's really responsive. A phone call, text or email gets returned... Read More
N. Holland
18 Hill St #2 & 3
Elise Loschiavo did a fantastic job selling my condos in the West End, managing to get them both closed in within a month of each other! She was on top of the process from before the time we listed to the following year, providing tax info.... Read More
More Testimonials